Learn calligraphy via correspondence course
Are you interested in calligraphy but don't have a tutor nearby? Have you taught yourself the basics from books, but want to learn more? Are there calligraphy classes in your area, but your busy life don't allow you to take them? Do you prefer learning from your home and at your leisure? Then perhaps a correspondence course is something for you.
Please note: Closed for more students
Due to personal reasons I will not be accepting any new students during 2016.
Which hands can I study?
The courses were originally written in my native language Swedish during 2001, and at the moment there are three courses – foundational hand, italic hand and a modern uncial hand – available in English.
The foundational hand is beautiful, clear and easy to read. It is based on underlying geometric shapes and is a very good starting place for any calligrapher, beginner or not. It can be used with success for most purposes and situations – poems, invitations, all kinds of labels, greeting cards etc. A sound knowledge of the foundational hand will stand you in good stead as you continue to study other hands in the future.
The italic hand is the backbone of many a calligrapher – amateurs as well as professionals – and has a beautiful, flowing rhythm to it. It's easy to read and highly suitable for flourishes. The variations are endless, and there is hardly a place or situation where italic calligraphy would not look good.
Modern uncials are highly decorative letters with a classic, ageless look and suits both beginners and more advanced students. This hand goes well with almost every occasion – jam labels, invitaions, menus, greeting cards, traditional manuscript pages etc – and is therefore very useful to both amateur or professional calligraphers.
Copperplate and Spencerian will not be offered in the future due to personal lack of experience with these scripts.
Instructional videos
When you have started a course, you will be given access to password protected instructional videos showing exactly how every letter is constructed and how the separate strokes are made. The videos show letters made with a wide nib, which makes it easy for you to see the details. This will be a great help for you, since it is always easier to learn a movement that you've seen somebody else make, compared to only reading about it. See demo video at the top right of this page.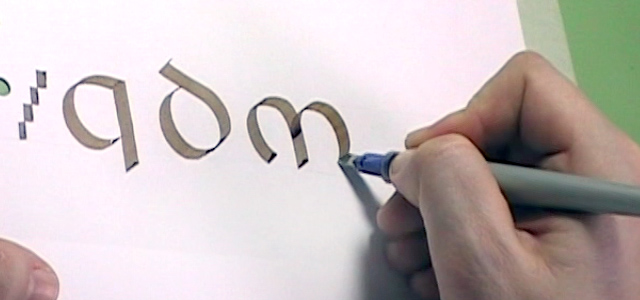 Videos are included in the course. You will see clearly how to make the different letters.
Please note: Closed for more students
Due to personal reasons I will not be accepting any new students during 2016.
Why should I take a correspondence course?
The reasons to take a calligraphy correspondence course can be many and various, such as:
You are interested in calligraphy, but don't know how to get started.
There is no tuition available where you live, or you simply just don't have the time to take the classes offered.
After learning the basics from books, you need someone to give constructive criticism and push you forward.
You have passed the beginner level, and want more than the local classes can offer.
You can study calligraphy around your busy life and still get it done.
With a correspondence course you will get the necessary structure and focus that lets you learn faster than you would on your own.
It allows plenty of flexibility in terms of schedule and hours devoted to study and practice.
You can read and re-read the comments you receive, hence gaining more from them than you would from general comments in a classroom.
Your work is closely examined, and the comments you get are individually tailored after your unique letterforms.
Sample pages
Some of the above applied to me in the mid 90's, and when the opportunity arose to take a couple of international correspondence courses, I immediately signed up and learned more than I thought was possible. Based on this experience as a student I wrote my own courses a couple of years (and hundreds of hours of practice) later. I hope that you will also appreciate to study calligraphy this way, and that you will benefit as much from it as I did.
This method of studying may perhaps not suit everybody equally well, though. I know from experience that visually oriented people can find it hard to learn from written instructions, but it's by no means impossible. If you know you are visually oriented you may have to take this into consideration. The instructional videos will help a lot here, though. If you know that you benefit from written instructions and are willing to spend some time practicing on your own, I'm certain that you will have moved a few steps along the learning curve after taking this course.
Please note: Closed for more students
Due to personal reasons I will not be accepting any new students during 2016.
How does it work?
The courses are rather thorough and consist of three lessons. Each lesson contains text material, tips and hints, lettering samples etc, and also a homework assignment. You will learn how to construct and arrange the letters, how they are related to each other, and a bit about layout.
At the end of each lesson the assignment is sent to me for constructive criticism. Ten to fourteen days later (most of this time is postal delivery) you will get your assignment back with detailed comments and individually tailored illustrations that help you understand what you can improve, and how to do so. This feedback will make you see what is already good in your lettering, and also point out where you need to pay closer attention to details.
You also have the option to scan and email your work instead of posting them in the snail mail. It will of course be much faster, but some details can be lost when scanning and your constructive criticism may not be quite as detailed. Also, it requires scanning skill on your part. You will get more information about this when you sign up.
Each lesson is scheduled to take four weeks of practice. However, sometimes "real life" tends to get in the way. That is by no means a problem; you can take almost as long as you wish to complete each lesson. The reason for the four week "deadline" is that most people feel it's good to have a set date to work towards, but this time frame is not cut in stone in any way. However, you have to complete all three lessons within one year, which I believe is a rather generous time frame. Homework that has not been sent one year after signing up is forfeited.
During the lessons you are free to email me with any question you may have regarding the courses, and you will have a prompt response (with the time difference taken in consideration). That direct communication in combination with the individually tailored criticism, is what makes these courses much more valuable than just a book. My goal is that the contact between you and me will be equally important as the text and lettering samples.
What about the criticism I will recieve?
The criticism is clear and precise, always supportive and honest and never derogatory in any way, and it will point out to you where both your strengths and your weaknesses are. It is tailored after your own, personal letters and will surely help you along the way towards the 'perfect' letters. Almost everytime you will also get hand made exemplars, showing your problem letters beside a correctly shaped letter, with the differences clearly pointed out. These sheets have been an eye-opener and most beneficial for the students I've had so far.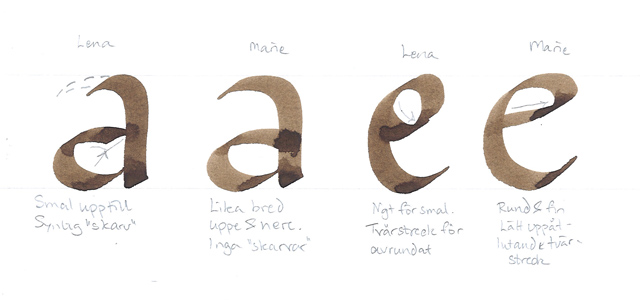 You will recieve constructive criticism of your homework with clear samples and suggestions form improvement (sample above made for Swedish student).
You live in Sweden – how do we communicate?
The communication between you and me will be in English and via e-mail. For me personally, English is almost easier to use than my native language Swedish when the subject is calligraphy. I believe that is because almost everything I read about calligraphy is in English – the e-mail conversations, the books, the internet etc.
Please note: Closed for more students
Due to personal reasons I will not be accepting any new students during 2016.
Ready to get started?
Send an e-mail
to me at
marie@kalligrafi.com
and submit your interest. I will contact you shortly, and we'll take it from there!
Who can take a course?
You do not need to have previously studied calligraphy – anybody with an interest in beautiful writing can take a course. The feedback you will receive is tailored after your current individual level of skill. Hence, you can take this course as a rank beginner but also if you already have some experience with lettering. It doesn't matter if you have taken classes previously of if you've never held a calligraphy pen before – with the help of a correspondence course you will surely move a few steps along the learning curve!
Your age doesn't matter at all – my Scandinavian students have been as young as thirteen and as old as eighty-two!
What is the fee and how do I pay?
The fee for three lessons differs with regard to whether or not you live within the European Community (EC), as taxes apply differently.
| | |
| --- | --- |
| Your location | Fee |
| Within the EC | EUR 87 |
| Outside the EC | EUR 70/USD 90 |
You can pay either via a bank transfer or via PayPal. PayPal also allows you to pay with your credit card, even if you don't have a PayPal account. You will get the payment details when you sign up, and the first assignment is sent to you as soon as the payment is recorded. Note that the fee is non refundable once you have signed up.
What is included in the fee?
The fee includes course material in the form of text and lettering samples, a set of guidelines, and of course the personal criticism, which is the core of the courses. You will get access to the password protected instructional videos mentioned above. The letter of criticism with suggestions and hints to improve your lettering is usually around one and a half printed page, and mostly a sheet or two of illustrations is included, showing where you need to pay extra attention to the strokes. You will not need any other books to complete the lessons.
Please note: The pen is not included in the fee. Steel nibs are not compulsory; you will do fine with a fountain pen or marker. I would recommend a fountain pen though. They give crisper lines and do not wear as quickly as a marker does.
If you don't have or don't know where to get a good fountain pen you can order the best fountain pen on the market from me when you sign up. I carry the Pilot Parallel Pen in different sizes as well as extra cartridges, and as a student you can order the Pens at discount price. I also carry Tape steel dip nibs in six different sizes if you want to try those, pen holders and walnut ink in crystal form. Beyond the pen you only need paper (ordinary office paper will do fine), a pencil and a ruler.
When can I start?
You can start a course anytime you want – tomorrow, next week or next month. You decide. That is one of the main advantages with this kind of tuition: you can work at your own pace and when you find the free time in your everyday schedule. It doesn't matter if those hours are early in the morning before the house wakes up, in the middle of the day when the children are in school or late evenings when the day's work is done.
Please note: Closed for more students
Due to personal reasons I will not be accepting any new students during 2016.
How do I sign up for a course?
Unfortunately I do not accept new students during the first half of 2015. If you think that this course sound interesting and you want to get started once I do take on students again, send an email to marie@kalligrafi.com and I will let you know as soon as possible. If you have further questions about the course, don't hesitate to email and ask me. I'm happy to reply to anything you want to know!