Learn calligraphy via correspondence course
It is with great regret that I've now decided to cancel the online calligraphy courses that have run since the fall of 2001.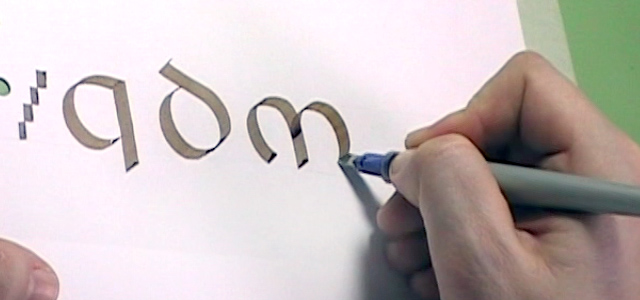 In September of 2001 I presented a series of calligraphy courses that were very well received – much more so than I had ever anticipated. For thirteen years without breaks I helped a little over 500 students from all over the world to learn and/or fine tune their calligraphy.
It has been both fun and rewarding in every aspect to help others correct and improve and hone in on the fine details of their lettering during these years. The students' joy when my comments and criticism have had a significant impact on thire letters is hard to surpass. Also, I have become a better calligrapher by helping others, that's very clear.
In spite of all this, the energy spent on evaluating the lettering of others took too much from the joy of making my own. After thirteen years it was suddenly not fun. I put the courses on hold for a couple of years, and I've had to think long and hard about how or if to continue.
Now – in January 2017 – I have decided to cancel these courses for good. It's time for me to move on and concentrate more on my own calligraphy.
Thank you to all!
I want to thank all of you who have taken courses with me over the years, who have worked hard and practiced, practiced, practiced. You are amazing! It warms my heart to see that the interest for calligraphy is very much alive today, in spite of – or maybe thanks to – our more and more digital world.
The calligraphy scene in social media is wide (and of varying quality) and there is a lot of inspiration to find for those inclined. You can find me on Facebook (mostly in Swedish) and Instagram (English and Swedish) – do follow me there!
Finally – once again a big, big thank you to everyone I've had the chance to know and help during these thirteen years. Calligraphy is a wonderful hobby for almost everybody, and I wish you all good luck in the hunt for the most beautiful of handwritten letters!